At Sparkle Cleaners on Drachman, we believe in making life a little bit easier for our customers. That's why we offer a comprehensive range of laundry, dry cleaning, and alteration services, allowing you to get the exact kind of support you need. At our Drachman location, we cater to your needs with our on-site tailor and even offer 24-hour locker pickup, if you can't get to our store in time to pick up your dry cleaning.
Tired of spending your downtime doing laundry? With our laundry pick-up and delivery service, leave the work to us. We'll pick up your bag of clothing, wash and fold them, and bring them back to you, ready to wear. We even clean wedding dresses, repair shoes, and clean carpet and tile in your home!
Swing by Sparkle Cleaners at 16 W. Drachman Street in Tucson for dry cleaning and more, or give us a call at (520) 623-3972 to find out more.
Contact this Location
Booking an appointment is easy and available 7 days a week. Once you fill out the form we will contact you by email or phone within one hour, during business hours, to confirm your appointment for availability. Or the following day if you send the request after business hours.
Call Us: 520.623.3972
Specials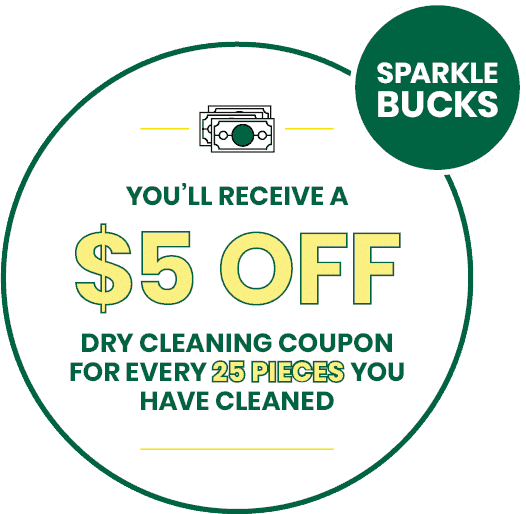 YOU'LL RECEIVE A
$5 off
for every 25 pieces
PANTS SPECIAL
$15.75
for 3 pairs of pants.
SHIRT SPECIAL
$8.55
for 3 laundered dress shirts.
CAT CARD DISCOUNT
20% off
on your dry cleaning
View Our Client Reviews
The lady up front was just awesome! Great service that will keep me coming back.
Sparkle did an online Flash Sale for jackets and coats. We took two men's long cashmere evening coats in for dry cleaning and quoted by a very nice representative that they could be picked up next day afternoon. I picked them up several days later at a cost of $32.47 (33% off). I inspected the coats and found them perfect.
Excellent dry cleaning service!
The pleasant demeanor of the staff is fantastic and greatly appreciated. I am always met with a smile and a hello. My garments always look great and I am thankful for the locker service which I use often.