If you ask your friends and neighbors who they trust for laundry and dry cleaning in Grant, and there's a good chance that they'll tell you about Sparkle Cleaners. Located at 2425 N. Tucson Blvd. #2440, Sparkle Cleaners in Grant provides a range of services to keep your clothes looking their best, from dry cleaning to alterations.
We have a long history of providing reliable laundry services, including options for wash-and-fold and delivery, as well as dry cleaning and specialty services, like wedding dress cleaning and preservation and even shoe repair. Our top-level cleaning services even extend to your home with carpet and tile cleaning. Don't spend your valuable free time doing laundry and scrubbing at home—let us do the work for you.
Trust Sparkle Cleaners in Grant for all of your dry cleaning and laundry needs. Stop by our location or call our Grant dry cleaners at (520) 326-1996 to learn more.
Contact this Location
Booking an appointment is easy and available 7 days a week. Once you fill out the form we will contact you by email or phone within one hour, during business hours, to confirm your appointment for availability. Or the following day if you send the request after business hours.
Call Us: 520.326.1996
Specials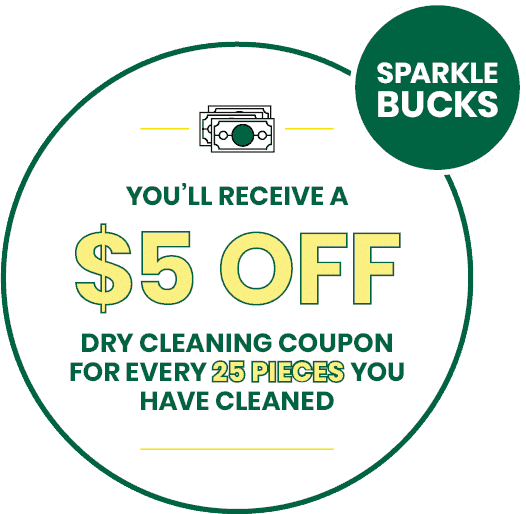 YOU'LL RECEIVE A
$5 off
for every 25 pieces
PANTS SPECIAL
$15.75
for 3 pairs of pants.
SHIRT SPECIAL
$8.55
for 3 laundered dress shirts.
CAT CARD DISCOUNT
20% off
on your dry cleaning
View Our Client Reviews
I've been to the Grant location twice so far - both with great experiences! I've used their dry clean service for dozens of long wool/cashmere coats, delicate dresses, shirts and pants. Very professional outcome, reasonable prices and friendly staff members helping me there! Strongly recommend it!! 🙂
Very professional staff. Sparkle Cleaners was timely and effective in cleaning my specific items. The price was reasonable. Their staff are very friendly and knowledgeable about the cleaning process. All items were ready for pick up at exactly the designated time.
Great service. Nice staff. A little pricey. Overall pleased with Sparkle Cleaners and will continue to use. They do understand what cardboard/EXTRA HEAVY starch means for welding clothes. This is a plus. Some places do not understand what that means. The only issue we've had so far is they have misplaced a pair of pants. I am confident they'll find them. However it is still a little annoying.