[ No added fees – ever! ]
Pick-Up and Delivery Service
Dirty laundry has a knack for piling up quickly, and it's often difficult to stay on top of it. But thanks to Sparkle Cleaners' pick-up and delivery service, you don't have to! Sign up today to get FREE Laundry delivery service. It's as easy as 1-2-3!
How Our Pick-Up and Delivery Service Works
We've designed our laundry pick-up and delivery service to be as easy as possible for you. Here's how it works:
Step 1
Sign up for laundry pick-up online.
Step 2
For your first pick-up, you can place your items in a clean garbage bag. Write your information (full name, phone, and address) legibly on a piece of paper and drop the paper into the bag.
Step 3
Cinch the bag closed and place it on your doorstep.
When we deliver your first order, we'll include two reusable laundry bags that you can use instead of a clean garbage bag. You'll get FREE laundry pick-up and delivery twice per week!
How much does this cost?
We never charge for pick-up and delivery. You'll only
pay our normal fees
for cleaning your items.
Tips for Getting the Most from Our Pick-Up and Delivery Service
Respond to the text message! We'll send you a message the night before service days asking if you'd like us to come by. Simply follow the prompts to schedule or cancel service for the following day!
Leave your bag out by 7:30 am. To ensure your bag is out by the time your driver arrives, please have your bag out by 7:30 am. We try and come by between 7:30 am and 6:00 pm.
USE COUPONS! Print your emailed coupons and include them in your bag, or, write a hand-written note with the coupon barcode/code and our staff will apply it for you.
Log into your account on our website to "suspend" service when you go on vacation or when you will be out of town and we'll visit you when you're back- safe travels!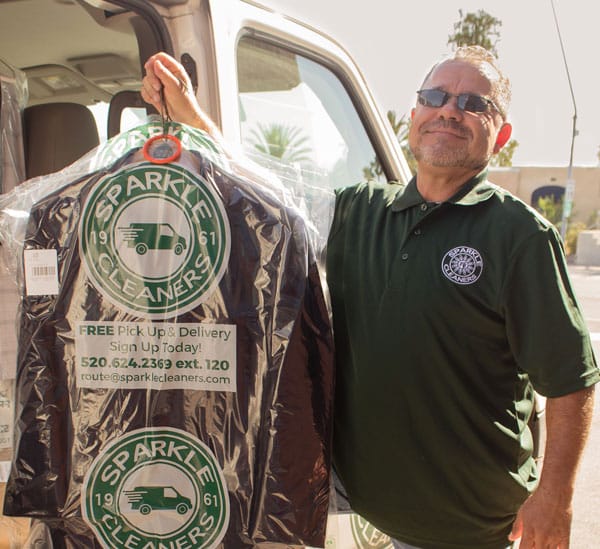 Home and Office Delivery Available
Sparkle Cleaners offers both home and office pick-up and delivery of your dry cleaning, laundry, and household items. If we're visiting your home, our valet drivers typically use your front door as the designated point of delivery. However, you can specify a different location if you prefer, such as back doors, side doors, garage doors, or gates.
Our office delivery services are particularly helpful for businesses that require employees to wear uniforms. Our valet drivers can deliver to a designated location within your office, such as a garment rack or closet. Or, if you prefer, we can set up small lockers that will blend in seamlessly with your existing décor.
Our Laundry Delivery Service Areas
Sparkle Cleaners offers our laundry pick-up and delivery service to households and office buildings throughout the Tucson area. We service all of our pick-up and delivery customers twice per week! Use the lookup tool to see if you live in an area we service
Get Started with Our Laundry Delivery Service Today!
Are you ready to experience the convenience and cost-savings of our pick-up and delivery service? Just click to sign up! You can even save 20% on your first order by entering the promo code: 20OFF .
Since 1961, Sparkle Cleaners has been committed to putting our customers first. We're pleased to provide superior laundry care throughout the Tucson area. If you have any questions, please contact your nearest Sparkle Cleaners location.