Sparkle Cleaners in Sunrise offers an extensive range of laundry and dry cleaning services designed with your convenience in mind. Whether you want to come by our Sunrise location for in-person help or want to make use of our simple, efficient laundry pick-up and delivery service, you can expect expertly done work with the kind of customer service you may have thought didn't exist anymore.
In addition to our high-quality laundry and dry cleaning services, did you know that Sparkle Cleaners on Sunrise can also come to your home to assist with your tough cleaning jobs there? Let our experienced team of experts help you handle stubborn stains on your carpet and upholstery and make your tile and grout shine like new. We are also experienced wedding dress cleaners and can help to ensure your dress always looks as beautiful as the day you wore it.
Find Sparkle Cleaners at 6890 E. Sunrise Dr. in Tucson in the same strip as Bashas'. Stop by our location with your dry cleaning, or call us at (520) 299-0022 for more information about our services.
Contact this Location
Booking an appointment is easy and available 7 days a week. Once you fill out the form we will contact you by email or phone within one hour, during business hours, to confirm your appointment for availability. Or the following day if you send the request after business hours.
Call Us: 520.299.0022
Specials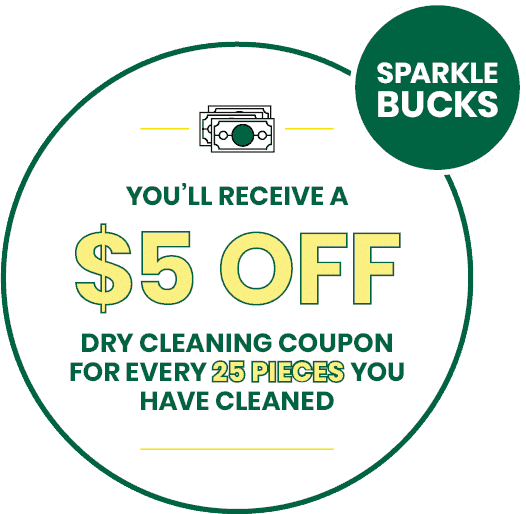 YOU'LL RECEIVE A
$5 off
for every 25 pieces
PANTS SPECIAL
$15.75
for 3 pairs of pants.
SHIRT SPECIAL
$8.55
for 3 laundered dress shirts.
CAT CARD DISCOUNT
20% off
on your dry cleaning
View Our Client Reviews
Friendly staff. Fast process. 👍🏼Got stubborn stain in my wool shawl, I knew it couldn't be easily removed. It's ok . My 3 other items are good.
I bring shirts to them and they are always professional and timely. When I had alterations everything looked great!
Fair priced, quick service on an antique quilt. Came out nice and clean.
The employees are always very nice especially Andrew. He really was quite pleasant and made my experience there fun.
April could not have been nicer. She went above and beyond, making my previously poor day much, much brighter.
I had a bunch of clothes cleaned and pressed. They turned out great. April the person that helps me at spark cleaners is the best customer service professional I've ever experienced. I'd like her to come work for my company
laundry and dry cleaning. Careful with the clothes. Never a problem with starch or ironing or anything else. Prompt service. No complaints.
Always pleasant help and great service. Have been using Sparkle for dry cleaning for over 10 years. Convenient and good prices, especially the occasional deals!