Sparkle Cleaners on Swan has one mission: to make your life easier. We're known for our attention to detail and great customer service, but in addition to those things, what we really do is give you back your time by taking your laundry off your plate. Whether you're looking for someone to wash and fold your clothes, do your dry cleaning, or perform alterations, we have you covered. We can even pick up your laundry from your doorstep and deliver it back to you cleaned and ready to wear.
In addition to our dry cleaning, laundry, and alteration services, we can bring our quality cleaning services inside your home as well with carpet, tile, and upholstery cleaning. We can even help you preserve your wedding dress or repair your favorite pair of shoes.
Visit Sparkle Cleaning at 5639 N. Swan Road in Tucson, conveniently located next to the Walgreens, for all of your dry cleaning and laundry needs. You can also call us at (520) 529-1950 for more information. Be sure to ask about our 24-hour locker service, which allows you to pick up your dry cleaned items even after we're closed for the day.
Contact this Location
Booking an appointment is easy and available 7 days a week. Once you fill out the form we will contact you by email or phone within one hour, during business hours, to confirm your appointment for availability. Or the following day if you send the request after business hours.
Call Us: 520.529.1950
Specials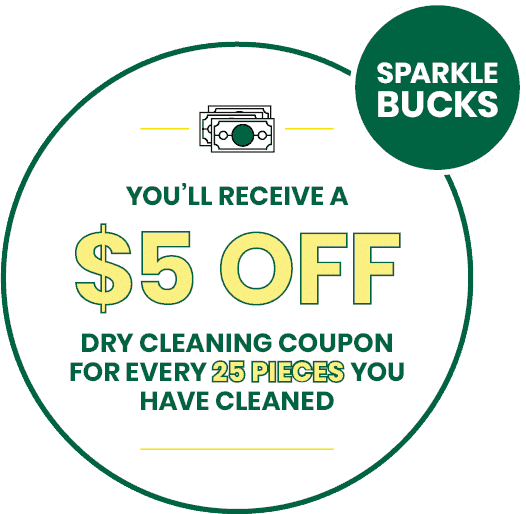 YOU'LL RECEIVE A
$5 off
for every 25 pieces
PANTS SPECIAL
$15.75
for 3 pairs of pants.
SHIRT SPECIAL
$8.55
for 3 laundered dress shirts.
CAT CARD DISCOUNT
20% off
on your dry cleaning
View Our Client Reviews
I moved to Tucson 2 years ago. I had been using the same cleaner for 30 years so choosing a new one was a chore. After several false starts I found Tanya and the folks at the Sunrise and Swan Sparkle. Good, quality, fast, professional. This location is not the closest cleaner to my home but something other than distance is just as important, I always leave with a smile or a laugh. In these days that's been hard to find. Thanks Tanya!!!!
Most cleaners are pretty much the same. Drop off clothes, get them back. This was no different, until I noticed that a sport coat of mine wasn't there with my order. They were very sorry and also responsive. I left with my incomplete order but they called me within 20 minutes with a coat that looked like mine. When I went in to check, it was the missing jacket and they explained to me how it might have happened, which was really just an honest mistake. Very pleased with their customer service once they had to respond to an issue. Recommend their professionalism and service.