At Sparkler Cleaners in Tangerine, we know how hectic life is. That's why our expert cleaning services are here to make life just a little bit easier. From wedding dress and carpet cleaning to wash-and-fold laundry services, pick-up and delivery laundry, and alterations. Our Tangerine location even offers 24-hour laundry services, so you can pick up your items after hours, on your own schedule.
Let Sparkle Cleaners take keeping your clothes looking their best off your plate with our convenient, easy laundry services. Our Tangerine store at 11931 N. 1st Avenue, Suite 141, in Ore Valley offers expert cleaning and repairs of your most challenging items, including leather and suede, alongside our usual cleaning services.
Call us at (520) 724-1160 to learn more about how we can help you with all of your laundry needs!
Contact this Location
Booking an appointment is easy and available 7 days a week. Once you fill out the form we will contact you by email or phone within one hour, during business hours, to confirm your appointment for availability. Or the following day if you send the request after business hours.
Call Us: 520.724.1160
Specials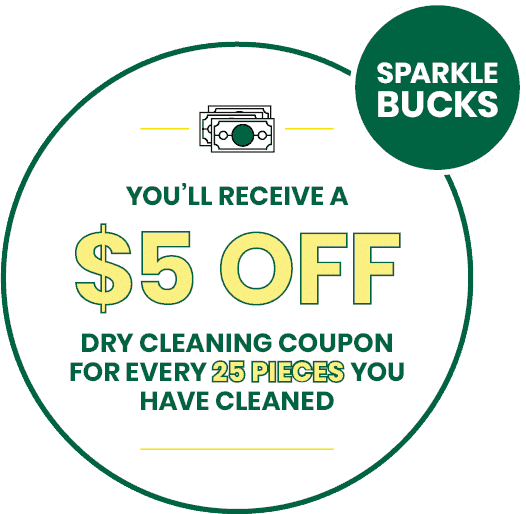 YOU'LL RECEIVE A
$5 off
for every 25 pieces
PANTS SPECIAL
$15.75
for 3 pairs of pants.
SHIRT SPECIAL
$8.55
for 3 laundered dress shirts.
CAT CARD DISCOUNT
20% off
on your dry cleaning
View Our Client Reviews
Friendly staff. Quality cleaning. Excellent pricing.
Extremely satisfied with the staff and cleanliness of this business
Excellent experience. Very happy with the alterations! Will be using this service again👍
I needed last minute pressing and they delivered! Communication was prompt and they were friendly and professional. A little expensive but worth it to rock my interview !
I took a badly stained sweater to Sparkle Cleaners for dry cleaning. The stain was recent, and I could identify it, so the end result was very well done. I deducted one star for Sparkle Cleaners as they do not have machinery available for women's blouse/shirt laundry. If a woman wants a shirt laundered, the dry cleaning department will handle it, but each shirt/blouse will cost $7.41. Somehow, the 3 shirts for $9 or $10 sign in the window does not apply for anyone but men. There was a nearby dry cleaners that did have the necessary equipment, but they moved out. I'll just have to keep looking. In the meantime, while their prices on dry cleaning seem high, the quality is there.
Cleaning order ready when promised.