Sparkle Cleaners is the local dry cleaners of choice for Tucson residents. We offer prompt, reliable garment care at 14 locations throughout the city and the nearby areas of Oro Valley and Green Valley. Our experienced team prioritizes the cleanliness and appearance of your wardrobe because we understand how important it is for you to make a good impression at work and in your personal life. Our budget-friendly, environmentally conscious dry cleaning services are ideally suited for busy Tucsonans.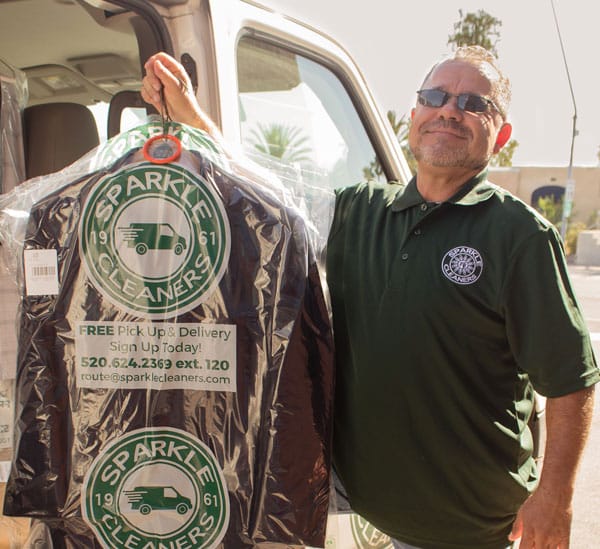 Our Dry Cleaning Services
Our dry cleaners offer a full range garment care services, from sweaters and shirts to jackets and dresses. We even offer specialty wedding dress dry cleaning services designed to help you preserve your cherished gown for generations to come!
At select dry cleaners locations in Tucson and Oro Valley, we offer a free 24-hour locker service to our valued clients. If you can't get to your nearby location to pick up your dry cleaning during business hours, we'll place it in a secure locker for you to pick up at your convenience—all at no additional cost!
All of our dry cleaners locations offer same-day service for orders that are dropped off before 9am with the exception of Thursdays and Saturdays. If you drop your garments off by 9am, you can expect to receive them back the same day after 5pm. Orders dropped off after 9 am will be ready for pick-up the following day in most cases.
Our Thorough Dry Cleaning Process
Here at Sparkle Cleaners, we pride ourselves on doing a thorough job every time. Each garment is cared for using the following process:
Tagging and Inspection – Our customer service representatives tag each garment and carefully inspect it for stains, tears, missing buttons, and other problems.
Stain Treatment- We use a pre-treatment process to tackle even the toughest of stains.
Dry Cleaning- We use green dry cleaning solvents and specialized washing equipment to carefully dry clean each garment.
Quality Control- After each garment is dry cleaned, we inspect it again to ensure it looks as good as new!
Final Touches- We press and steam each garment before placing it in a protective dry cleaning bag.
USE THE SPARKLE CLEANERS APP FOR GREATER CONVENIENCE
We know you lead a busy lifestyle, and we're here to help make things easier! Download the Sparkle Cleaners Arizona app and get instant access to your personalized account. You can instantly view your past orders and receipts, and track the processing of current orders. The app also enables you to easily and quickly schedule a free, on-demand route pickup. Plus, you'll get notified as soon as your order is ready for pickup. Visit the app store today to find out how you can get FREE credit toward your next dry cleaners service!
FAQS ABOUT DRY CLEANERS
The team at Sparkle Cleaners looks forward to making your life less stressful with our garment care services. Contact our dry cleaners near you by viewing our retail locations. Be sure to check out our latest coupons and special offers!